White Rhinoceros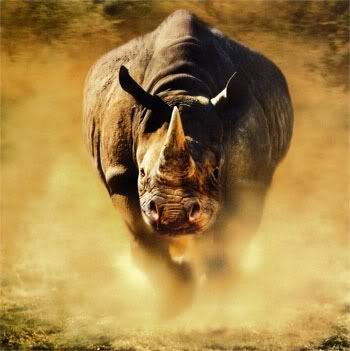 Both black and white rhinoceroses are actually gray. They are different not in color but in lip shape. The black rhino has a pointed upper lip, while its white relative has a squared lip. The difference in lip shape is related to the animals' diets. Black rhinos are browsers that get most of their sustenance from eating trees and bushes. They use their lips to pluck leaves and fruit from the branches. White rhinos graze on grasses, walking with their enormous heads and squared lips lowered to the ground.
White rhinos live on Africa's grassy plains, where they sometimes gather in groups of as many as a dozen individuals. Females reproduce only every two and a half to five years. Their single calf does not live on its own until it is about three years old.
Under the hot African sun, white rhinos they take cover by lying in the shade. Rhinos are also wallowers. They find a suitable water hole and roll in its mud, coating their skin with a natural bug repellent and sun block.
Rhinos have sharp hearing and a keen sense of smell. They may find one another by following the trail of scent each enormous animal leaves behind it on the landscape.
White rhinos have two horns, the foremost more prominent than the other. Rhino horns grow as much as three inches (eight centimeters) a year, and have been known to grow up to 5 feet (1.5 meters) long. Females use their horns to protect their young, while males use them to battle attackers.
The prominent horn for which rhinos are so well known has been their downfall. Many animals have been killed for this hard, hair-like growth, which is revered for medicinal use in China, Taiwan, Hong Kong, and Singapore. The horn is also valued in North Africa and the Middle East as an ornamental dagger handle.
The white rhino once roamed much of sub-Saharan Africa, but today is on the verge of extinction due to poaching fuelled by these commercial uses. Only about 11,000 white rhinos survive in the wild, and many organizations are working to protect this much loved animal
Type: Mammal
Diet: Herbivore
Size: Head and body, 11 to 13.75 ft (3.4 to 4.2 m); Tail, 20 to 27.5 in (50 to 70 cm)
Weight: 3,168 to 7,920 lbs (1,440 to 3,600 kg)
Size relative to a 6 ft (2 m) man
Hippo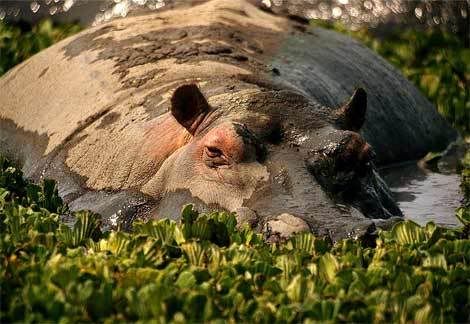 Hippopotamuses love water, which is why the Greeks named them the "river horse." Hippos spend up to 16 hours a day submerged in rivers and lakes to keep their massive bodies cool under the hot African sun. Hippos are graceful in water, good swimmers, and can hold their breath underwater for up to five minutes. However, they are often large enough to simply walk or stand on the lake floor, or lie in the shallows. Their eyes and nostrils are located high on their heads, which allows them to see and breathe while mostly submerged.

Hippos also bask on the shoreline and secrete an oily red substance, which gave rise to the myth that they sweat blood. The liquid is actually a skin moistener and sunblock that may also provide protection against germs.

At sunset, hippopotamuses leave the water and travel overland to graze. They may travel 6 miles (10 kilometers) in a night, along single-file pathways, to consume some 80 pounds (35 kilograms) of grass. Considering their enormous size, a hippo's food intake is relatively low. If threatened on land hippos may run for the water-they can match a human's speed for short distances.

Hippo calves weigh nearly 100 pounds (45 kilograms) at birth and can suckle on land or underwater by closing their ears and nostrils. Each female has only one calf every two years. Soon after birth, mother and young join schools that provide some protection against crocodiles, lions, and hyenas.

Hippos once had a broader distribution but now live in eastern central and southern sub-Saharan Africa, where their populations are in decline.

Type: Mammal
Diet: Herbivore
Average lifespan in the wild: Up to 40 years
Size: Head and body, 9.5 to 14 ft (2.8 to 4.2 m); Tail, 13.75 to 19.75 inches (35 to 50 cm)
Weight: 5,000 to 8,000 lbs (2,268 to 3,629 kg)
Group name: School
Size relative to a 6 ft (2 m) man: