Bengal Tigress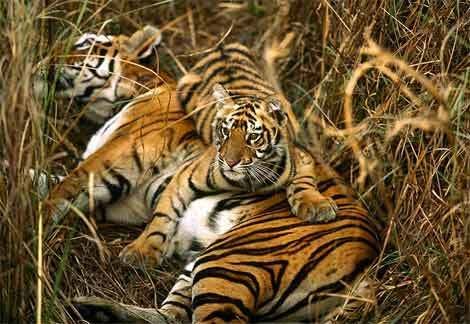 Tigers are the largest members of the cat family and are renowned for their power and strength.

There were eight tiger subspecies at one time, but three became extinct during the 20th century. Over the last 100 years, hunting and forest destruction have reduced tiger populations from hundreds of thousands of animals to perhaps fewer than 2,500. Tigers are hunted as trophies, and also for body parts that are used in traditional Chinese medicine. All five remaining tiger subspecies are endangered, and many protection programs are in place.

Bengal tigers live in India and are sometimes called Indian tigers. They are the most common tiger and number about half of all wild tigers. Over many centuries they have become an important part of Indian tradition and lore.

Tigers live alone and aggressively scent-mark large territories to keep their rivals away. They are powerful nocturnal hunters that travel many miles to find buffalo, deer, wild pigs, and other large mammals. Tigers use their distinctive coats as camouflage (no two have exactly the same stripes). They lie in wait and creep close enough to attack their victims with a quick spring and a fatal pounce. A hungry tiger can eat as much as 60 pounds (27 kilograms) in one night, though they usually eat less.

Despite their fearsome reputation, most tigers avoid humans; however, a few do become dangerous maneaters. These animals are often sick and unable to hunt normally, or live in an area where their traditional prey has vanished.

Females give birth to litters of two to six cubs, which they raise with little or no help from the male. Cubs cannot hunt until they are 18 months old and remain with their mothers for two to three years, when they disperse to find their own territory.

Type: Mammal
Diet: Carnivore
Average lifespan in the wild: 8 to 10 years
Size: Head and body, 5 to 6 ft (1.5 to 1.8 m); Tail, 2 to 3 ft (0.6 to 0.9 m)
Weight: 240 to 500 lbs (109 to 227 kg)
Did you know? A tiger's roar can be heard as far as two miles (three kilometers) away.
Size relative to a 6-ft (2-m) man:

African Lioness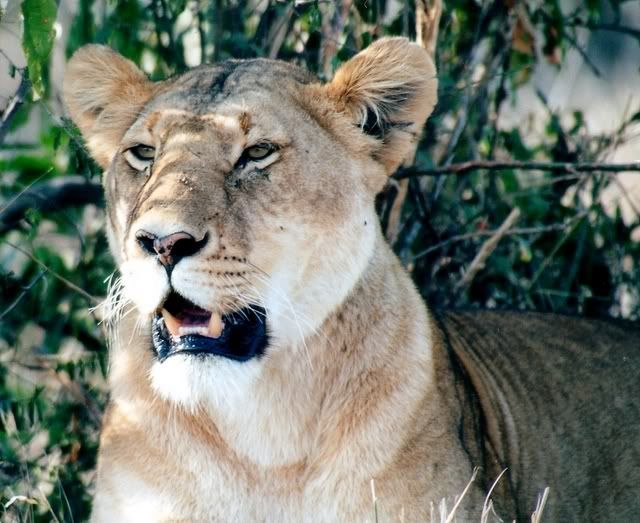 Lions are the only cats that live in groups, which are called prides. Prides are family units that may include up to three males, a dozen or so females, and their young. All of a pride's lionesses are related, and female cubs typically stay with the group as they age. Young males eventually leave and establish their own prides by taking over a group headed by another male.

Only male lions boast manes, the impressive fringe of long hair that encircles their heads. Males defend the pride's territory, which may include some 100 square miles (259 square kilometers) of grasslands, scrub, or open woodlands. These intimidating animals mark the area with urine, roar menacingly to warn intruders, and chase off animals that encroach on their turf.

Female lions are the pride's primary hunters. They often work together to prey upon antelopes, zebras, wildebeest, and other large animals of the open grasslands. Many of these animals are faster than lions, so teamwork pays off.

After the hunt, the group effort often degenerates to squabbling over the sharing of the kill, with cubs at the bottom of the pecking order. Young lions do not help to hunt until they are about a year old. Lions will hunt alone if the opportunity presents itself, and they also steal kills from hyenas or wild dogs.

Lions have been celebrated throughout history for their courage and strength. They once roamed most of Africa and parts of Asia and Europe. Today they are found only in parts of sub-Saharan Africa, except for one very small population of Asian lions that survives in India's Gir Forest.

Type: Mammal
Diet: Carnivore
Size: Head and body, 4.5 to 6.5 ft (1.4 to 2 m); Tail, 26.25 to 39.5 in (67 to 100 cm)
Weight: 265 to 420 lbs (120 to 191 kg)
Group name: Pride
Protection status: Threatened
Size relative to a 6-ft (2-m) man: