White Rhino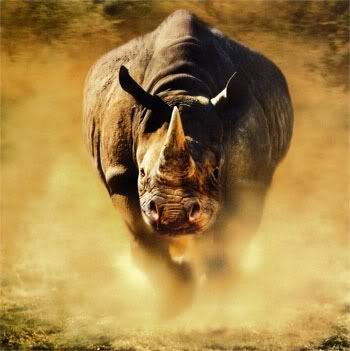 Both black and white rhinoceroses are actually gray. They are different not in color but in lip shape. The black rhino has a pointed upper lip, while its white relative has a squared lip. The difference in lip shape is related to the animals' diets. Black rhinos are browsers that get most of their sustenance from eating trees and bushes. They use their lips to pluck leaves and fruit from the branches. White rhinos graze on grasses, walking with their enormous heads and squared lips lowered to the ground.
White rhinos live on Africa's grassy plains, where they sometimes gather in groups of as many as a dozen individuals. Females reproduce only every two and a half to five years. Their single calf does not live on its own until it is about three years old.
Under the hot African sun, white rhinos they take cover by lying in the shade. Rhinos are also wallowers. They find a suitable water hole and roll in its mud, coating their skin with a natural bug repellent and sun block.
Rhinos have sharp hearing and a keen sense of smell. They may find one another by following the trail of scent each enormous animal leaves behind it on the landscape.
White rhinos have two horns, the foremost more prominent than the other. Rhino horns grow as much as three inches (eight centimeters) a year, and have been known to grow up to 5 feet (1.5 meters) long. Females use their horns to protect their young, while males use them to battle attackers.
The prominent horn for which rhinos are so well known has been their downfall. Many animals have been killed for this hard, hair-like growth, which is revered for medicinal use in China, Taiwan, Hong Kong, and Singapore. The horn is also valued in North Africa and the Middle East as an ornamental dagger handle.
The white rhino once roamed much of sub-Saharan Africa, but today is on the verge of extinction due to poaching fuelled by these commercial uses. Only about 11,000 white rhinos survive in the wild, and many organizations are working to protect this much loved animal.
Type: Mammal
Diet: Herbivore
Size: Head and body, 11 to 13.75 ft (3.4 to 4.2 m); Tail, 20 to 27.5 in (50 to 70 cm)
Weight: 3,168 to 7,920 lbs (1,440 to 3,600 kg)
Size relative to a 6 ft (2 m) man:
Asian Elephant
The elephant is Earth's largest land animal, although the Asian elephant is slightly smaller than its African cousin. Asian elephants can be identified by their smaller, rounded ears. (An African elephant's ears resemble the continent of Africa.)

Elephant ears radiate heat to help keep these large animals cool, but sometimes that isn't enough. Elephants are fond of water and enjoy showering by sucking water into their trunks and spraying it all over themselves.

An elephant's trunk is actually a long nose with many functions. It is used for smelling, breathing, trumpeting, drinking, and also for grabbing things-especially a potential meal. The trunk alone contains about 100,000 different muscles. Asian elephants have a fingerlike feature on the end of their trunk that they can use to grab small items. (African elephants have two.)

Elephants use their tusks to dig for roots and water, strip bark from trees, and even fight each other. Unfortunately their ivory has gotten them into a lot of trouble. Because ivory is so valuable to some humans, many elephants have been killed for their tusks. This trade is illegal today, but it has not been completely eliminated.

Elephants eat roots, grasses, fruit, and bark, and they eat a lot of these things. An adult elephant can consume up to 300 pounds (136 kilograms) of food in a single day.

These hungry animals do not sleep much, and they roam over great distances while foraging for the large quantities of food they require to sustain their massive bodies.

Female elephants (cows) live in family herds with their young, but adult males (bulls) tend to roam on their own.

Having a baby elephant is a serious commitment. Elephants have a longer pregnancy than any other mammal-almost 22 months. Cows usually give birth to one calf every two to four years. At birth, elephants already weigh some 200 pounds (91 kilograms) and stand about three feet (9.1 meters) tall.

Asian elephants have been domesticated for thousands of years. The powerful beasts have been employed to move heavy objects, such as felled trees, to carry humans on their backs, and even to wage war.

Type: Mammal
Diet: Herbivore
Average lifespan in the wild: Up to 60 years
Size: Height at the shoulder, 6.6 to 9.8 ft (2 to 3 m)
Weight: 2.25 to 5.5 tons (2,041 to 4,990 kg)
Group name: Herd
Size relative to a 6-ft (2-m) man: