Gaur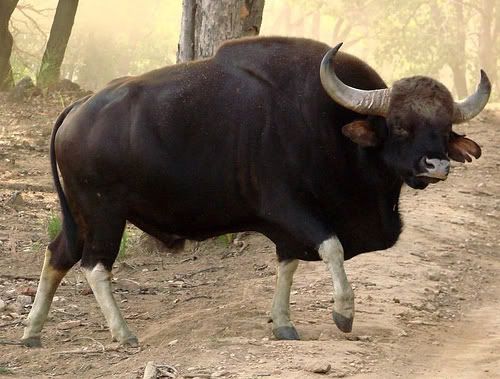 Kingdom: Animalia
Phylum: Chordata
Subphylum: Vertebrata
Class: Mammalia
Order: Artiodactyla
Family: Bovidae
Subfamily: Bovinae
Genus: Bos
Species: Bos frontalisGeographic Range
The range of Bos frontalis is Nepal, India to Indochina, and the Malay Peninsula (Nowak 1999).
Biogeographic Regions:
oriental (native ).
Habitat
Inhabits forested hills and nearby grassy clearings. Can be found at elevations up to 1800 meters (Nowak 1999).
Terrestrial Biomes:
rainforest .
Physical Description
Mass
650 to 1000 kg; avg. 825 kg
(1430 to 2200 lbs; avg. 1815 lbs)
Length
2.50 to 3.30 m
(8.2 to 10.82 ft)
Typical length of the body and head is 2.5 to 3.3 meters; tail length ranges from 0.7 to 1.05 meters. Shoulder height is 1.65 to 2.2 meters. A pair of horns is present in both sexes; horn length ranges from 0.6 to 1.15 meters. The hair of B. frontalis is dark reddish brown to blackish brown, with white stockings. Adult males are about 25% larger and heavier than females (Nowak 1999). A characteristic hump of raised muscle can be seen over the shoulders; this is the result of elongated spinal processes on the vertebrae (Buchholtz 1989).
Some key physical features:
endothermic ; homoiothermic; bilateral symmetry .
Sexual dimorphism: male larger, ornamentation .
Reproduction
Number of offspring
1 to 2; avg. 1
Gestation period
9.77 to 10.03 months; avg. 9.94 months
Birth Mass
23000 g (average) [Ref]
(809.6 oz)
Time to weaning
4.50 months (low); avg. 4.50 months
Age at sexual or reproductive maturity (female)
550 days (average) [Ref]
Age at sexual or reproductive maturity (male)
550 days (average) [Ref]
Breeding can take place at any time throughout the year, though females have an interval of 12 to 15 months between births. The estrous cycle is three weeks long, and estrus lasts one to four days. Gestating females leave the herd during parturition. Usually one 23 kg young is born after 270 to 280 days of gestation. Calves are nursed for up to nine months. Females become sexually mature at two to three years of age. Though lifespan has not been studied in the wild, one captive B. frontalis lived to be 26 years of age (Nowak 1999).
Key reproductive features:
gonochoric/gonochoristic/dioecious (sexes separate); sexual .
Behavior
Herds of B. frontalis typically contain eight to eleven individuals, but can reach 40 individuals. Home range size averages 78 square kilometers (Nowak 1999). Herds usually contain one adult bull and several cows and juveniles. Other bulls may form bachelor herds, or if advanced in age, become solitary. A hierarchy is established in all herds, with a dominant bull at the top and size determining the order thereafter.
Ritualized aggressive behavior is used by both sexes to maintain the dominance hierarchy. Aggressive behavior is characterized by broadside charges and movement of the head horizontally and vertically. The degree of vigor and height of the head express varying levels of aggression.
Vocalizations include an alarm call, which consists of a high-pitched snort and a growling "moo." Bulls have two additional calls. The first is the herd call, which halts the herd and brings it together. The second is a roaring that can last for hours during mating periods. Licking is also used in communication. Females lick their calves to form stronger relationships with them. Lower-ranking individuals lick higher-ranking individuals. Also, mating pairs lick each other during breeding.
The daily behavior of B. frontalis begins with the herd exiting the forests into grassy areas to feed in the morning. The afternoon is spent resting and ruminating. More feeding ensues in the evening, and at night the herd reenters the forest for resting and sleeping.
Shyness causes aversion to humans, and in largely disturbed areas, B. frontalis can become entirely nocturnal (Buchholtz 1989). There have been reported cases, though, of B. frontalis attacking and killing human pursuers that get too close (Nowak 1999). Predators of B. frontalis include tigers and humans (Buchholtz 1989).
Key behaviors:
motile ; social ; dominance hierarchies .
Food Habits
Classified as an herbivore, B. frontalis is both a browser and a grazer. It prefers green grass, but otherwise will consume coarse, dry grasses, forbs, and leaves (Nowak 1999).
Economic Importance for Humans: Positive
Humans use B. frontalis as a species for sport hunting (Buchholtz 1989).
Ways that people benefit from these animals:
food .
Conservation Status
IUCN Red List: [link]:
Vulnerable.
US Federal List: [link]:
Endangered.
CITES: [link]:
Appendix I; No special status.
The population of B. frontalis is in decline due to hunting and habitat alteration and destruction. It has been estimated that there are only 1000 individuals left in the wild (Nowak 1999). This species is also very susceptible to domestic cattle diseases, such as hoof and mouth disease and rinderpest. Diseases are spread by domestic cattle that are driven into the habitat of B. frontalis to graze (Buchholtz 1989).
Great Horned Rhino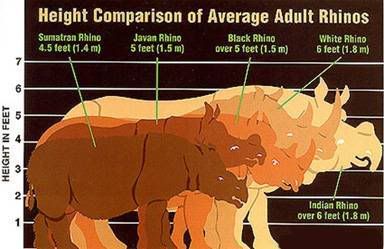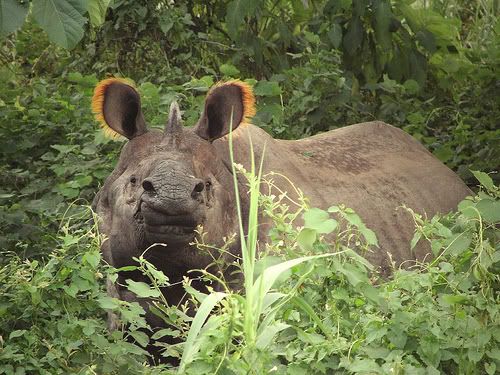 Geographic Range
Found in northern Pakistan, India, Nepal, Bangladesh, and Assam.
Biogeographic Regions:
oriental (native ).
Habitat
Alluvial plain is the primary and preferred habitat. Adjacent swamp and forest areas are also used.
Terrestrial Biomes:
savanna or grassland ; forest ; scrub forest .
Physical Description
Mass
1500 to 2000 kg
(3300 to 4400 lbs)
Both male and female R. unicornis have a single dark horn on the nose measuring up to 529 mm, which is made from agglutinated hairs. Their skin has many loose folds, especially distinct around the neck region in males, which give the appearance of a suit of armor. The skin is covered with large tubercules.
Some key physical features:
endothermic ; bilateral symmetry .
Reproduction
Gestation period
479 days (average) [Ref]
Birth Mass
58000 g (average) [Ref]
(2041.6 oz)
Age at sexual or reproductive maturity (female)
2557 days (average) [Ref]
Age at sexual or reproductive maturity (male)
2557 days (average) [Ref]
Breeding occurs throughout the year. Only dominant bulls mate, and it is believed that they can assess the reproductive status of females through scent. Courtship may seem aggressive--males chase females and fighting often ensues. After a gestation period of 480 days, one young is born weighing 70 kg. Weaning usually occurs in one year, although it may last up to 18 months. Females have young at intervals of about three years. One week before the next birth, the female will chase away her previous calf. Sexual maturity is reached at an age of 9 years for males, and 4 for females. The lifespan is about 40 years.
Key reproductive features:
gonochoric/gonochoristic/dioecious (sexes separate); sexual .
Behavior
Rhinoceros unicornis is usually solitary except for females with young. Loosely bound aggregations of a few individuals do occur, especially at wallowing grounds or foraging areas. There are loosely defined territories in males which are not well defended, and often these territories overlap. Occasionally rhino interactions are aggressive, characterized by charges, and horn clashes. Fighting between males is often a cause of death when population densities are high. Approximately 10 vocalizations are known for rhinos, including snorts, roars, and honks. Scent deposition is common, and often large communal dung heaps are formed.
Key behaviors:
motile .
Food Habits
The diet consists of grass, fruit, leaves, branches, aquatic plants, and cultivated crops. Tall reedy grasses are preferred to short species. The prehensile upper lip is used to curl around grass stems to bring them into the mouth. When eating aquatic plants, rhinos submerge their entire heads and tear the plant up by the roots. Foraging occurs at night, in early morning, or late afternoon to avoid the heat of the day. Rhinoceros unicornis drinks daily and is fond of mineral licks.
Economic Importance for Humans: Negative
Rhinos have been know to injure crops by trampling and consumption. At one point, a government bounty was established to keep rhinos from ruining tea plantations. In addition, there are recorded fatalities as a result of an attacks by rhinos, usually when a mother with calf was startled.
Economic Importance for Humans: Positive
Asian rhino horn can be sold for more than twice its weight in gold. After processing, it has been known to reach $30,000 per kg. The horn is used as a medicine and an aphrodesiac. Medicinal purposes are as a pain reliever and a fever suppressant. There are no scientific studies, however, that show that rhino horn is affective for any of these purposes. In addition to the horn, rhino hide, blood, urine, and dung also have economic value.
Conservation Status
Total wild populations number 1700. Rhinoceros unicornis is severely threated by hunting activities due to the huge economic value of the horn. This species is listed endangered by the IUCN and USDI and is on Appendix 1 of CITES. Current projects are underway to reintroduced populations in areas where they have been extirpated. Such projects will only be successful if the reason for the initial downfall of rhinos --overhunting by humans--can be eliminated. Efforts to control poaching and illegal wildlife trade will help in the recovery of the Indian rhino. One population in Nepal is protected with 700 armed troops and rangers, almost 2 guards per rhino. Aside from overhunting, the loss of alluvial plain habitat to agriculture has resulted in a reduction of suitable rhino habitat.